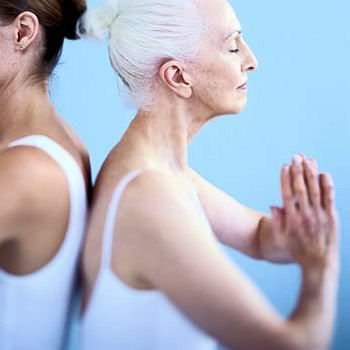 Yoga for seniors is beneficial for those who wish to maintain and improve physical and mental health while also adopting a more positive approach to the later years in life. The practice of yoga can greatly enhance a senior's physical and mental well-being as well as help to alleviate many of the ailments associated with growing older, such as osteoporosis, arthritis and hypertension. Even a half-hour weekly yoga for seniors class can help increase the physical fitness and quality of life of a senior.Also, joining a Yoga class is a social activity.
Benefits of Practicing Yoga for Seniors
Due to our increasing longevity and the natural ageing process of our bodies, it is more necessary than ever that seniors participate in some form of regular exercise to promote overall good health. Yoga poses and breathing techniques are considered to be a safe and gentle way of achieving this goal. Many dedicated yogis believe that regular yoga practice at any age might even reverse the ageing process.
Yoga for seniors can provide the following benefits:
Improved balance and posture which reduces the risk of falls

Improved endurance and flexibility

Improved cardiovascular and respiratory efficiency

Improved digestive tract by eliminating excess stomach gas

Reduced stress and hypertension

Reduced pain in the joints

Increased muscle strength and toning

Strengthening of the spine
Yoga Classes for Seniors
As our population ages, more and more yoga instructors are offering more yoga for seniors classes. These classes are less strenuous and specifically designed for seniors. Senior yoga classes are structured so that seniors can safely enjoy yoga stretching exercises, whether it's using a floor mat, a chair or sitting against a wall for added support depending on the level of fitness. An important component of yoga is learning how to inhale and exhale properly. Breathing techniques are replenishing, warming and cleansing and can help to improve lung capacity and clear congested air passages, a common ailment among older seniors.
Many qualified yoga teachers now incorporate specially adapted yoga techniques and poses to accommodate those seniors with more limited abilities. These might include a ball held in the hand to facilitate rotation of the arms and shoulders, or holding onto a chair and slowly lifting one leg at a time to strengthen the hips. Yoga classes for seniors will also emphasize exercises, such as mudras, which help ease the pain of arthritis in the hands and joints.
Senior yoga classes are becoming a popular addition to mainstream yoga, resulting in a great variety of classes available to address the needs of the more senior yogi practitioner. However, it is always advisable to consult a doctor before embarking on any new form of exercise and to be guided by a qualified instructor until you feel more comfortable with doing yoga at home.
Meditation Exercises for Seniors
Along with yoga poses and exercise, yoga mediation for seniors can help to manage the stress that often accompanies growing older. Knowing how to meditate properly and quiet the mind is an essential element of yoga and mental health. Yoga mediation is well known to increase the ability to concentrate and focus, which is of particular benefit to those seniors who are beginning to suffer some form of memory loss. Daily yoga meditation can have a calming and beneficial effect on seniors who experience anxiety and other nervous symptoms.
Yoga for Seniors is Fun!
In addition to all the many health benefits outlined, joining a yoga class and meeting other seniors in a friendly, relaxed and safe environment is a fun activity to do. Loose comfortable clothing, a yoga mat and an open mind is all you need to get started. Join a yoga class with a friend to help keep you motivated. Not only will yoga rejuvenate you physically and mentally, it will also provide an opportunity to expand one's social horizons.
Find a yoga studio near you specialzing in seniors yoga by using the
yoga search engine
at Yogiseeker.